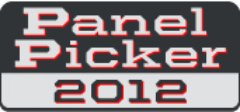 The
South By Southwest "Panel Picker"
is now live. This is the chance for people to vote for panel ideas that they find interesting. The votes only count for a small percentage of the decision, but having a few people chime in about why a speaker is a good choice never hurts.
Please take a minute, if you would... PLEASE..., to read my panel idea and cast a positive vote.
http://panelpicker.sxsw.com/ideas/view/10275
Thanks.
thom singer