If you are attending the
SXSW

Interactive Conference
in March 2011 I hope you will attend the panel on philanthropic giving: "
You Can Impact Charity Without Being Rich
".
My strongest memory of
SXSW
2010 was at a rooftop party when the
SXSW
party goers spontaneously raised $300 toward the purchase of a wheel chair for the nephew of one attendee. The young man was paralyzed temporarily, and the family could not afford a wheel chair.
Many people want to do more than just create a "Killer
App
", they want to impact the greater good. But the media only covers how the rich and successful donate, and it leaves others thinking they have no place in philanthropy.
There are so many ways in social media and live to impact charities and individuals in need (not just money), it just takes a little dedication and creativity.
This panel will bring together four people who help a variety of causes. Together they will show entrepreneurs and others how they can, with minimal effort, make HUGE contributions to society.
This panel is scheduled for Monday, March 14, 2011 at 12:30 PM.
I will moderate the panel.
The experts are:

Beth

Krueger

Executive Director at
Heart House
Beth Krueger has more than 20 years as a professional non-profit manager. Krueger has built strategies, developed programs, raised funds, and served as a part of the leadership team for a variety of non-profits including those in animal welfare, social services, and professional association management. A passionate advocate for organizations that enrich the community, Krueger has served as an officer in the Austin Chapter of the Association for Fundraising Professionals and was the 2003 Fundraiser of the Year. She has served on the grants distribution committee for St. David's Episcopal Church and is a 2008 graduate of Leadership Austin.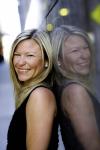 Estrella Rosenberg
Founder
of Big Love Little Hearts
Estrella Rosenberg is the Founder of Big Love Little Hearts, an organization that helps children with heart defects in developing countries get lifesaving surgery. She is also the Host of 501 Mission Place, an online learning community for non-profit leaders. She blogs at Adventures In Philanthropy and is @charityestrella on twitter.


Eugene

Sepulveda

CEO
Entrepreneurs Foundation
Eugene Sepulveda believes children can make an impact in charity and every single adult even more. Last year, through the Entrepreneurs Foundation over 8,600 Austin children ran lemonade stands, raising hundreds of thousands of dollars for themselves and their favorite charities, while learning about entrepreneurship. The Entrepreneurs Foundation practices disruptive innovation in philanthropy, helps make nonprofits profitable and promotes entrepreneurship. Every year, he and his staff at the Entrepreneurs Foundation help hundreds of employees and entrepreneurs identify the intersection of their skills, their passions and community needs to best channel their charitable involvement. As a business professor at the University of Texas teaching social entrepreneurship & international business, Eugene's undergraduate and MBA students provided tens of thousands of consulting hours helping nonprofits better reach, define and otherwise support their missions. Eugene's served in leadership roles on the boards of numerous foundations and nonprofits including the Austin Community Foundation, the Human Rights Campaign, the KDK-Harman Foundation, Leadership Austin, the Austin Museum of Art, PeopleFund and the Greater Austin Chamber of Commerce. He's involved with national and international charities, most recently raising over $1.5 million for Haiti earthquake relief – raising over $4mm for charity and politics the last two years. He also serves on President Obama's national finance committee and as co-chair for the LGBT Leadership Council. Eugene and his husband, Steven Tomlinson, established ABPorter.org to support art and conversations which build community.

Ray Blue

Senior Development Dir
ector

at
Dell Children's Medical Center
Ray Blue joined Dell Children's Medical Center Foundation in 2009 as Senior Director of Development responsible for major and planned giving. Prior joining Dell Children's, Ray was Vice President of Development at United Way Capital Area in Austin, Texas. With over 15 years of development experience, Ray is trained in consultative sales strategy and relationship centered donor practices. He received a BA in Psychology at the University of North Carolina at
Asheville
and a Masters of Divinity at Emory University. Ray lives in Austin with his wife Sally and daughter Ruby.
We hope to see you there.
thom
singer